This weekend one of my best friends, Lukas, got married. Jeremy and I had such a great time at the wedding, I'll be sure to post photos later. As their wedding gift, I made Lukas and his bride Amie a monogram pillow with their wedding date imprinted on it.
It is much like the pillows I made as
Christmas gifts last year
, but this time I used drop cloth material instead of muslin fabric in hopes that the thicker fabric would hold its shape longer. I used the Citra Solv transfer method using a simple frame from
The Graphics Fairy
. I then inserted the frame into a Word document and inserted a text box for the monogram and a word art box for their wedding date (Word art has a curved option and I wanted the date to curve along with the frame).
If you are local and are ever interested in having me make a pillow for you or for a wedding gift, etc. please e-mail me at faithhomelove@gmail.com
I decided to wrap the pillow in a natural colored bag and add a bow to the front. I love simple wrapping of gifts and am planning on wrapping Christmas gifts this year using craft paper or other natural colored trimmings.
I was so proud of my bow- it was the first bow I have ever made! Not sure that I did it correctly but in the end it turned out good enough to put on the gift so I was happy with it.
I hope you enjoy your Labor Day today!
(P.S. The photos in this post were taken in my grandparents beautiful home. I snapped a few more pictures from around their house that I will be sharing later in the week)
I'm linking up to Brag Monday at Graphics Fairy,

and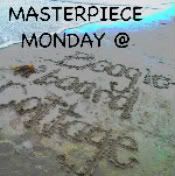 .